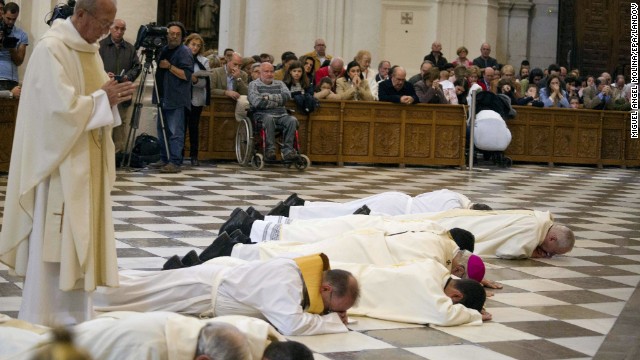 Madrid (CNN) — It might all have remained a dark secret, if a young man who was an alleged victim of sexual abuse hadn't written a letter to the Vatican. And then gotten a surprise phone call from Pope Francis, according to a Spanish digital newspaper.
On Monday, Spanish police arrested three Catholic priests and a religion teacher on suspicion of abusing a minor, Spain's interior minister announced.
A court statement from Granada confirmed the arrests of four people "for a case of sexual abuse," and said it would hear initial charges before a judge within three days. The investigation is under seal.
The arrests came a day after the Archbishop of Granada and other clerics took the unusual step of prostrating themselves in the cathedral during Sunday Mass, "asking forgiveness for the sins of Church, for all of the scandals that have, or might have, occurred among us," the Granada Archdiocese website reported.