For Roger Mahony, clergy abuse cases were a threat to agenda
From the start of his tenure as the leader of L.A.'s Catholics, Roger Mahony had ambitious plans for the archdiocese. But clergy molestation claims were vying for his attention.
BY HARRIET RYAN, ASHLEY POWERS AND VICTORIA KIM
December 01, 2013
Ayear after arriving in Los Angeles, the youngest archbishop in the U.S. Catholic Church had a schedule and an agenda befitting a presidential candidate.
Roger Mahony raced around the city in a chauffeured sedan, exhorting labor leaders to support immigrant rights and rallying hundreds against a proposed prison in Boyle Heights.
Where his predecessors had talked up praying the rosary, Mahony touted his positions on nuclear disarmament and Middle East peace, porn on cable TV and AIDS prevention. No issue seemed outside his purview: When an earthquake struck El Salvador, he cut a $100,000 check. When a 7-year-old went missing in South Pasadena, he wrote her Protestant parents a consoling letter.
Reporters took notes and the influential took heed. The mayor, the governor, business executives and millionaires recognized a rising star and sought his company.
Among the thousands of papers that crossed his desk in September 1986 was a handwritten letter.
"During priests' retreat … you provided us with an invitation to talk to you about a shadow that some of us might have," Father Michael Baker wrote. "I would like to take you up on that invitation."
The note would come to define Mahony's legacy more than any public stance he took or powerful friend he made.
In the child sex abuse scandal that has shaken the Catholic Church, Mahony is a singular figure.
Cardinal Roger Mahony prays in his residence in 1986. (Los Angeles Times)
He became the leader of America's largest archdiocese at the very moment the church was being forced to confront clergy molestation. Because he was just 49 when he took office, he was in power for the entire arc of the abuse crisis. Long after peers had retired or died, Mahony was around to face the public's wrath. Because of the unique way abuse lawsuits played out in California, his files on molesters became public while in most other corners of the church, they remain under lock and key.
The archdiocese's confidential personnel files, released this year as part of a massive settlement of civil lawsuits, provide the most detailed accounting yet of how clergy abuse was handled in a U.S. diocese. Along with sworn testimony by Mahony and his advisors and interviews with church officials, victims' families and others, the nearly 23,000 pages maintained by the archdiocese and various religious orders suggest a man who was troubled over abuse but more worried about scandal — and how it might derail the agenda he had for himself and his church.

When Roger Mahony was tapped in 1985 to lead Los Angeles' 3 million Catholics, he was bishop of the sleepy Stockton diocese where the faithful numbered just 135,000.
Some might have been nervous about taking on such a visible, high-pressure role, but not Mahony. The North Hollywood native enjoyed the spotlight, whether it was marching with Cesar Chavez in the 1970s or jumping into the nuclear arms debate from the unlikely perch of Stockton. L.A. offered Mahony a national platform.
He began changing the way the archdiocese was run. He stocked the chancery with computers and laser printers and hired women and minorities for key positions.
He seemed almost temperamentally unable to see a problem and not do something. When a cathedral fire alarm stopped working, Mahony found a screwdriver and rewired it. When the clock was blinking the wrong time in an aide's car, he quickly reset it. On vacation at his mountain cabin in the Sierra, he never let friends wash the dishes — he could do it faster and better.
When it came to the big issues of the day, he wanted his church to move just as nimbly.
He set out to redefine its relationship with secular L.A., inserting himself into debates on an array of issues. Whether it was teen pregnancy or Soviet aggression, if Reagan-era America was talking about it, Mahony was too.
Latino concerns had been important to him since the days when he worked on his family's chicken ranch in North Hollywood, side by side with Mexicans in the country illegally. Within months of taking office in L.A., he had rolled out his "Latino plan" — a strategy for better serving the archdiocese's 2 million Latino Catholics. He quickly became a prominent proponent of an immigration bill that would grant amnesty to millions.
"My theory is that if we make the wrong decision, we can always abandon it or change it, or fine-tune it," Mahony told The Times early in his tenure. "But taking forever to ever get to the decision, to me, that is one of the faults of the church over the centuries."
Behind closed doors, another issue was vying for his attention.

Former Catholic priest Michael Baker in 1974. (Archdiocese of Los Angeles)
Had they met under different circumstances, Mahony might have thought Father Michael Baker an ideal priest for the archdiocese he was trying to build. Like the archbishop, Baker was a Southern California native fluent in Spanish as well as English. His bright blue eyes, charisma and familiarity with Mexican culture made him popular in the Latino parishes so important to the archbishop.
But what brought Baker to Mahony's office in December 1986 was a sin gnawing at his conscience. For close to a decade, the priest said, he had molested two boys.
That a priest could molest a child would no longer have surprised Mahony. Less than a month after he started work in L.A., the first letter regarding an abuser priest landed on his desk. Two days later, he was dealing with the case of a second molester priest.
Baker was the ninth.
For decades, such allegations had made their way to the archdiocese's headquarters. But for the most part, the men who wore the miter before Mahony did little in response. Letters from irate parents gathered dust in file cabinets. Priests were quietly transferred.
Mahony knew the larger church was just starting to confront clergy abuse. In 1985, after a molester priest caused a scandal in Louisiana, U.S. bishops held a closed-door session on abuse at their annual conference.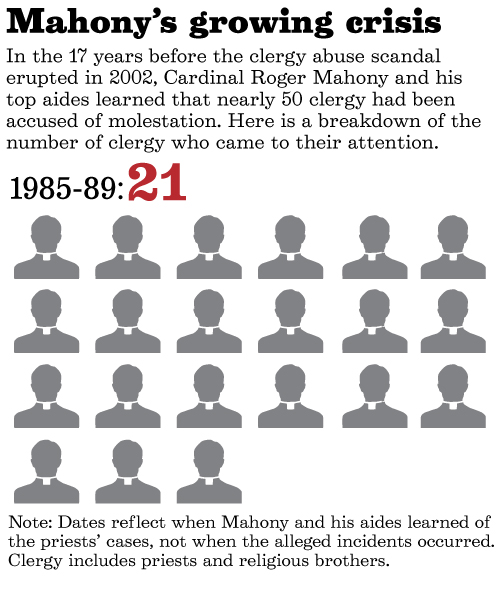 Mahony and other bishops subsequently received a lengthy report warning of the legal and public relations ramifications of abuse and offering tips for dealing with such cases. The report, written by a priest, a psychiatrist and a lawyer, presented the topic in a risk-analysis manner appealing to pragmatists like Mahony.
"Our dependence in the past on Roman Catholic judges and attorneys protecting the Diocese and clerics is GONE," the report said.
Among the recommendations was that bishops rely on lawyers' advice. Not long after Mahony arrived, he consulted the archdiocese's longtime attorney about Cristobal Garcia, a priest accused of molesting an altar boy and then fleeing to his native Philippines.
The lawyer, J.J. Brandlin, was unequivocal: "Be sure that someone has reported the matter to the authorities," he urged. "The law carries a heavy burden."
The advice went unheeded. Brandlin stepped down shortly thereafter, and in his place Mahony hired the law firm of prominent venture capitalist Richard Riordan, a devout Catholic.
About the same time, Mahony took another step recommended in the report: He held a seminar for all 1,100 of his priests about pedophilia. He concluded the session with a direct appeal to any child molesters in the audience.
Pope John Paul II tours Chinatown with Mahony during a two-day visit to L.A. in 1987. Planning for it was among issues preoccupying the cardinal a year earlier. (Los Angeles Times)
"It's really helpful if you come forward so we can get you help," he said.
Only Baker responded.
It was Christmas week 1986. The chancery had begun to empty out for the holidays, but Mahony was working as hard as ever. The amnesty bill had passed, and the archdiocese was setting up centers to help register 250,000 immigrants for citizenship. The L.A. leg of Pope John Paul II's summer visit, the first time a pope had ever set foot in California, needed planning. And in the archbishop's corner office, Baker wanted to unburden himself about two boys he had molested for years.
What happened? Mahony asked. "Oh, just touching," Baker said.