The Sunday Assembly, a group for unbelievers to connect with like-minded individuals, is expanding from the UK to US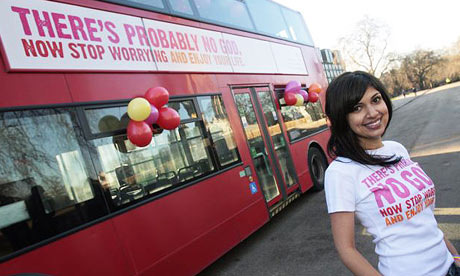 Ariane Sherine poses beside the atheist bus in the UK. Photograph: Leon Neal/AFP/Getty Images
When comics Sanderson Jones and Pippa Evans launched the Sunday Assembly in a dilapidated North London church on 6 January 2013, they sought to create a gathering for nonbelievers who wanted to "live better, help often and wonder more" without the religious trappings associated with a Christian church.
For those inclined to dismiss this venture as anti-god performance art,Simon Jenkins, editor of the UK based Ship-of-Fools website, reflects on the significance of comedians launching this project:
"I've thought for a while that stand-ups have displaced preachers in popular culture. They spend a lot of time reflecting on the way humans behave, and in observational comedy it's the jokes that are true to life which connect with people and move them to laugh."
Emery Emery, co-host of the Ardent Atheist podcast, concurs:
"Comics like Lenny Bruce, Richard Pryor, George Carlin, Bill Hicks and Paul Provenza are the philosophers of this age who lampoon everything we hold sacred."
Although these comedic co-founders admit they nicked the best components of church like group singing, interesting talks and community building, Jones articulates a unique vision for the Sunday Assembly:
"This isn't about making people into atheists or preaching against God. Rather, we seek to provide the human and social needs for a lot of people who don't believe in God but want to congregate and share similar positive values."
In the past six months, this community has grown from 250 to 600 attendees, and they now meet in a 1,200 seat arena. This growth coincides with the latest census, which ranked England and Wales as two of the most unreligious nations in the western world with 14.1 million people declaring themselves to be of "no religion".
Could there be a similar appeal for an atheist church in Christian America where only 4% of the population (pdf) state publicly they are atheists or agnostics?. According to Roy Speckhardt, executive director of the American Humanist Association:
"One challenge in the discussion that's occurred on the rise of atheist churches so far is that it tends to overlook the fact that the majority of involved atheists and humanists aren't actually interested in personally being involved in a congregation atmosphere."
Yet Chris Stedman, assistant chaplain with the Humanist Community at Harvard, sees a deep need for connection among many nonbelievers he encounters in his work as an interfaith activist:
"I meet non-theists who participate in religious communities because they get something meaningful out of doing so, but who also tell me they would gladly join a group of non-theists if that option existed in their community."