Tony Abbott: voters should have expected my budget's sweeping cuts
Prime minister says people had been clearly put 'on notice' about what was to come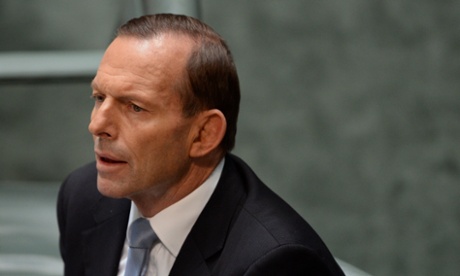 Lenore Taylor, Guardian Australia political editor
theguardian.com, Sunday 18 May 2014 03.38 BST
Tony Abbott Tony Abbott: the Coalition has done 'precisely' what it had promised. Photograph: Lukas Coch/AAP
The prime minister insists voters should have expected the sweeping budget cuts unveiled last week, despite his often repeated pre-election promise that there would be "no cuts to education, no cuts to health, no change to pensions, no change to the GST".
Focusing on a different pre-election mantra, Tony Abbott told the ABC's Insiders program people had been clearly "on notice" about what was coming.
"You might remember the mantra – it was stop the boats, repeal the carbon tax, build the roads of the 21st century and get the budget back under control," he said.
"So people, I think, were on notice that we were going to do what was necessary to ensure that we were not being a burden on our children and grandchildren," he said, and the Coalition had done "precisely" what it had promised.
But the state premiers, meeting in Sydney on Sunday, insist they did not expect $80bn to be cut from forecast future federal grants for hospitals and schools and are demanding a share of federal income tax to make up the difference.
Rallies were planned for several capital cities on Sunday by voters angry at unexpected proposed cuts to the real value of pensions and family payments, a new $7 co-payment for visits to the doctor, an extra $5 co-payment for medical scripts, the reintroduction of fuel excise indexation and dramatic changes to deny unemployment benefit to under 30s for six months of the year.
A Galaxy poll for News Ltd papers published on Sunday showed 75% of voters thought the budget left them worse off, but did not record a shift in the standing of the major parties – with Labor leading the Coalition 53% to 47% in two-party-preferred terms.
The poll showed increased support for the Palmer United party.
[ccw-atrib-link]