UN denounces Vatican over child abuse and demands immediate action
Devastating UN report demands Vatican 'immediately remove' all clergy who are known or suspected child abusers
Lizzy Davies in Rome and Henry McDonald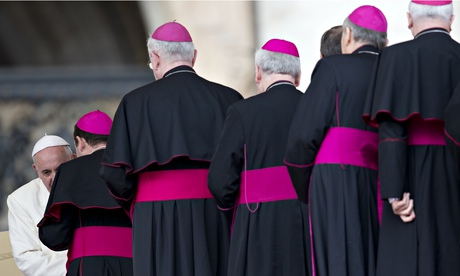 Pope Francis meets bishops at the end of his weekly general audience. Photograph: Alessandra Tarantino/AP
The Vatican has failed to acknowledge the huge scale of clerical sex abuse and has implemented policies that have led to "the continuation of the abuse and the impunity of the perpetrators", a UN panel said on Wednesday in a scathing rebuke of the Holy See's handling of the global scandal.
In grimly worded findings released by the UN Committee on the Rights of the Child, the watchdog urged the Holy See to "immediately remove all known and suspected child sexual abusers" from their posts in the church and hand over the cases to law enforcement authorities in the countries concerned.
It also asked the Vatican to ensure that an expert commission set up byPope Francis last year will "investigate independently" all cases of child sex abuse and the way in which they are handled by the Catholic hierarchy. Records concerning past cases should be opened up so that they can be used to hold the abusers – and those who may have sought to protect them – accountable, the panel added.
The Holy See must establish "clear rules, mechanisms and procedures" for the mandatory reporting of all suspected cases of abuse to civil law enforcement authorities, it said.
The committee said it was "particularly concerned" that in dealing with allegations of child sex abuse, "the Holy See has consistently placed the preservation of the reputation of the church and the protection of the perpetrators above children's best interests, as observed by several national commissions of inquiry."
The Vatican responded testily to the findings, saying that though it would submit them "to a thorough study and examination", it regretted what it perceived to be interference in its affairs. The statement was thought to refer to the committee's remarks on contraception and abortion.
"The Holy See does … regret to see in some points of the concluding observations an attempt to interfere with Catholic church teaching on the dignity of human person and in the exercise of religious freedom," said a Vatican statement.